The year 2020 will be remembered for generations to come as a pivotal year in the history of humanity because the whole world ground to a halt in 2020. Some businesses closed down, some people lost their jobs, many realised that we were living through changing times.
At Eruption, we reflected a lot during the confinement period, and we also used the free time available to rethink our business approach and revamp our graphical identity. The result is a new logo, a new website and a new way of marketing ourselves.
Old logo
Our old logo was designed in 2013. The stylised camera shutter emphasised the video and film production services offered by Eruption. A tagline was used to list all the services offered by Eruption: AUDIO – VIDEO – DIGITAL – EVENTS – COMMUNICATION. The latter was important because many people still thought of Eruption as just a recording studio or a video production company. It was important to drive home the message that Eruption offered the whole range of communication & marketing services, from conception to production.
In 2018, we did some minor changes to the logo to flatten and simplify the design.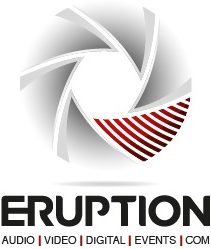 The 2013 logo used by Eruption reminded people that we offered video and film production services.
In 2018, the logo was refreshed to flatten the design and simplify the tagline.
New logo
Our logo has been revamped to project a more modern image. We removed the shutter above the word ERUPTION and at the same time replaced the standard letter O in our name by a customised one. The more imaginative amongst you may also see in the latter a distant resemblance with a camera shutter or even a volcano with lava flowing down when viewed from above ;-)
New website
Our website had last been redesigned in 2018 and we wanted to adopt a completely new, dark mode design. So, here it is!
New approach to business
Since its creation, Eruption has always excelled as a production house: from audio recordings to video production to website design & development to digital marketing… During the first 18 years of our existence, we were first and foremost a company with an expertise in the production of communication and marketing tools. Our clients were initially mostly advertising agencies, but as the years went by, we were getting more and more requests from corporates and institutions. The advent of the Internet accelerated this tendency and we transitioned from a being a production house for advertising agencies to a full-blown communication & marketing agency with a very strong track record in delivering successful Internet strategies and digital production.
This transition is now complete and although we sometimes come across people who think that Eruption only does Video Production, we are now getting more queries and requests for quotations for general communication and marketing services than for video production.
Today, we are proud to count amongst our clients not only banks, international institutions, NGOs, and many of the top Mauritian enterprises, but also startups and SMEs.
Contact us to learn more about Eruption and how we can help you in your communication and marketing.